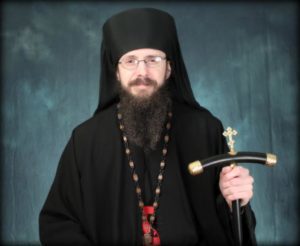 Sign up for our Advent Retreat – Click Here!!!
St. Paul writes: "Let this mind be in you which was also in Christ Jesus…" (Phil 2:5.) How do we acquire this Mind of Christ and where and how is it to be discovered? For the Orthodox Christian, salvation is the acquisition of this Mind of Christ. This acquisition moves us from the image of God to the likeness of God; through our obedience to this call we begin to know God and this knowledge is eternal life (John 17:3). This retreat hopes to begin to answer how acquiring the Mind of Christ is possible and why it is necessary in our lives today.
Fr Sergius Bowyer
Archimandrite Sergius, originally from California is a convert to Holy Orthodoxy and a graduate of St. Tikhon's Orthodox Theological Seminary. Fr. Sergius sought solace in the monastic life of the Orthodox Church by being tonsured as a monk of St. Tikhon's Orthodox Monastery in South Canaan, Pennsylvania – the first Orthodox Christian Monastery in North America.
Aside from his duties as a monk, Fr. Sergius dedicates much of his service to the training of the future priests of the Holy Orthodox Church in North America by serving as the lecturer in liturgical music, one of his many fortes. After many years of prayerful service as a humble monk, Fr. Sergius was ordained to the Holy Diaconate and to the Holy Priesthood in December 2008, by His Beatitude Metropolitan Jonah, Primate of the Orthodox Church in America.  Archimandrite Sergius was installed as the 16th Abbot of Saint Tikhon's Monastery on January 23, 2010.
The Retreat Schedule
Saturday, December 10, 2016
9:15 –     10:15     Registration
10:00 –     10:15     Opening Prayer and Introduction
10:15 –     12:15    Session 1
12:15 –    1:30    Lunch
1:30 –        1:45    Book Signing
1:45 –        3:45 Session 2
4:00 –     5:00 Great Vespers
Cost
$15.00 per adult
$5.00 per child
Supervised childcare and a parallel retreat will be offered to children
The Retreat will be held at the church.
Date/Time
Date(s) - Dec 10, 2016   10:00 am-3:45 pm
Location
Saint Barnabus
Add this event to your Google calendar