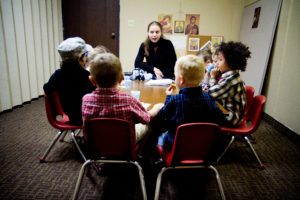 St. Barnabas has four levels of Church School classes to serve children of the parish, ages 3-18 years old. Guests are always welcomed to visit, but if you'd like your child to attend regularly, please fill out a registration form (here), one per family, and a parent release form (here), one per child, and turn it into the parish secretary, Stella Georgoulis, or Nadina Robinson.
The primary curriculum for children aged 3 to 9 years, is Catechesis of the Good Shepherd (CGS), adapted for Orthodox use. If you'd like to watch a short video about CGS, click HERE.
If you have any questions or concerns about CGS, please contact Cybil Whittamore, or about the church school program, in general, contact Nadina Robinson.
Classes meet every Sunday, beginning 15 minutes after Divine Liturgy ends, until about 1:15pm, from the first Sunday of October, until the Feast of Pentecost.
For the 2016-17 year, classes are cancelled on the following dates:
Oct 23 – parish Luau
Dec 25 – Nativity
Jan 1 – New Year's Day
Feb 12 – 30th Anniversary Luncheon
Feb 19 – BBQ Luncheon (Meatfare Sunday)
Mar 19 – Exaltation of the Cross procession
Apr 9 – Palm Sunday
Apr 16 – Pascha
May 14 – Mother's Day