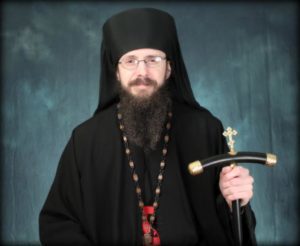 These are the two videos of the talk given by Abbot Sergius in our continuing education and catechism series: Acquiring the Mind of the Church!
The talk on "Acquiring the Mind of Christ" was presented at our parish by Abbot Sergius who serves as the 16th Abbot of Saint Tikhon's Monastery.
Archimandrite Sergius, originally from California is a convert to Holy Orthodoxy and a graduate of St. Tikhon's Orthodox Theological Seminary. Fr. Sergius sought solace in the monastic life of the Orthodox Church by being tonsured as a monk of St. Tikhon's Orthodox Monastery in South Canaan, Pennsylvania – the first Orthodox Christian Monastery in North America.
Aside from his duties as a monk, Fr. Sergius dedicates much of his service to the training of the future priests of the Holy Orthodox Church in North America by serving as the lecturer in liturgical music, one of his many fortes. After many years of prayerful service as a humble monk, Fr. Sergius was ordained to the Holy Diaconate and to the Holy Priesthood in December 2008, by His Beatitude Metropolitan Jonah, Primate of the Orthodox Church in America.