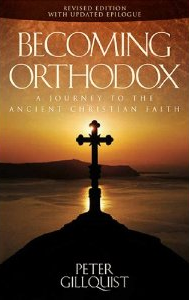 The beard is now gray and the hair is thinner than when he preached the Gospel of Jesus Christ on the streets, beaches and house churches of Huntington Beach, California. That was during the heady days of the Jesus Movement in the nineteen sixties. Father Wayne Wilson, the founding pastor of Saint Barnabas Orthodox Church in Costa Mesa, California, a suburban city halfway between Los Angeles and San Diego, now wears a black cassock and a long pectoral cross, rather than the tees and jeans he wore as a street evangelist and Campus Crusade For Christ student leader. Otherwise little has changed. He is still a man as passionate as ever about preaching the "good news" of Jesus Christ, crucified and risen.
As a result Saint Barnabas has seen its share of inquirers and converts to the Eastern Orthodox faith. In fact, over the past eight to ten years St Barnabas has received an average of 20 new catechumens each year into the Holy Orthodox Church. The catechism process isn"t a quick and easy one either. It takes place over a minimum six month period and involves a formal class which includes Christian history, the Creeds, the Councils, Orthodox theology, regular attendance at services and Feasts, and several confessions. As Father Wayne puts it: "We slow-cook our catechumens; we don't believe in fast food. There is much to learn and to assimilate."
In addition – and reflecting the parish"s missionary ethos – over twenty short-term missionaries have also been sent out from Saint Barnabas, through the Orthodox Christian Missionary Center (OCMC), to places like Albania, Alaska, Guatamala, India and Tanzania. Father Wayne smiles as he recounts, "Father Martin Ritsi, the Executive Director of the Orthodox Christian Missionary Center, decided to come out and visit us after we sent him our 15th missionary. He said he wanted to see what we were doing."
Father Wayne and Father Michael Reagan are frequently asked what they do to attract so many new visitors and converts to the Eastern Orthodox Church. People often want to know about special "out-reach" programs or ministry tools. They are quick to explain however, there are no gimmicks. "We have just always believed our purpose as a parish community was to preach the Gospel in the context of the Holy Church and Holy Tradition – to catechize, and to have our doors wide open and available to seekers wanting a fuller and deeper life in Christ, regardless of their ethnic or religious background," notes Fr Michael, a catechist at St Barnabas. As to the reason why the parish has drawn so many catechumens, Father Wayne adds: "We are open to it. We just do our part and God takes care of the rest."
Given the parish' orientation to non – cradle born Orthodox, there are a few things they have picked up along the way.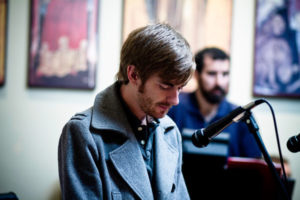 Even with the growth, the entire parish goes out of its way to welcome newcomers, regardless of background, ethnicity or dress code. "It takes a commitment to get up on a Sunday morning and to visit a new church, especially one as different to our Protestant culture as an Orthodox church. The very least we can do is to acknowledge their presence with us," Father Wayne says. There is always a greeter at the door on Sundays to hand out a bulletin and help a new visitor orient to the often unfamiliar surroundings of an Orthodox Church service. Each newcomer also receives a "Welcome to St Barnabas CD" about the parish and Orthodoxy (produced by the parish), which they can listen to on their ride home. This helps to reinforce the often first-time encounter of Orthodoxy. The bookstore is always stocked with reading materials on a variety of subjects of interest to newcomers and inquirers. The priests still make it a point – and encourage congregants – to meet every visitor they can. "We don't let people stand around alone at coffee hour – someone goes up to greet and engage them," Father Wayne says.
The ministry at St Barnabas has been especially fruitful lately with a new generation of youth, who seem to be drawn to the solid and authentic tradition of Christianity of the Eastern Orthodox faith.
"Sometimes when I"m censing in church and see all the youth, I have a flashback to the Jesus Movement days", Fr Wayne says with a smile. "Those were very exciting times, with thousands converting to Christ. But nothing is as exciting as these times when we are able to introduce people to the Lord in the context of Holy Tradition and the Church. We are able to give them more than just the four spiritual laws. The Church gives them the spiritual tools and the context within which to experience life in Christ in ways we never imagined possible as Evangelicals."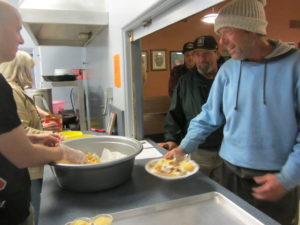 For many years the crop of inquirers and catechumens of all ages came from more traditional Evangelical, Anglican and Charismatic backgrounds. Then one day Turbo Qualls, a young African American tattoo – artist (and now developing iconographer) showed up. His background included drug use, witchcraft and Magick before he became a Christian as an Evangelical. He had been leading a Monday night Bible study and discussion group at "Sid"s Tattoo Shop" in Anaheim, California with other young, disaffected, punk-rock counter-culture kids, turned off by the overtly materialistic American culture and looking for solid truth.
One of Turbo's first encounters with Orthodox Christianity was the book "Youth Of the Apocalypse" published by Saint Herman of Alaska Monastery in Platina, California (founded by Fr Seraphim Rose). It had been circulating around the southern California Christian punk rock scene he was part of. Once he read the book he discovered that some of the lyrics and ethos of the punk rock music scene had in fact been inspired by Orthodox Christianity, without being directly attributed to it.
Turbo was looking to find his place. "I grew up often being the only "black guy" around, so I was hungry for "identity". The Christian punk scene provided that for awhile, but while the church I attended provided community, it did not really provide an "identity,"" Turbo explains. Through his reading and exploration Turbo discovered the Eastern Orthodox Church of "St Moses The Black", the fourth-century Ethiopian Orthodox monk from Egypt. St Moses was formerly a suspected murderer and leader of a gang of fierce bandits, before hiding out at a monastery in Egypt and being drawn by the peace and tranquility he discovered there. Turbo visited St Barnabas and became a catechumen. Soon others like him, some only marginally Christian – some sporting dredlocks, tattoos, multi-colored hair, Mohawks, lip and nose piercings – began to show up with him. Like Turbo they were drawn by the reverence, the beauty and the depth of Orthodox Christianity.
When asked what impact Orthodox Christianity has made on his life, Turbo reflects before answering: "Our family"s prayer and devotional life is now the center of our home life. That"s probably one of the biggest changes." He continues: "I also realized I needed to be kind to my wife and be a truly "good" man; not just to maintain some Christian veneer, but real goodness, because I know I will be judged."
Eddie (John) Valadez and Paige (Marina) Crissman were part of Turbo"s tattoo-parlor Bible study group and also part of the punk Christian scene. Eddie, who appeared at St Barnabas in a monotone wardrobe of black, heavily tattooed and sporting a heavy silver chain dangling from his back pocket, says he was looking for "true Christianity" and found it in Orthodox Christianity. Paige, sporting her own tattoos and piercings, says that the Christian punk scene prepared her for Orthodox Christianity because "we already had this radical idea of Christianity being different from typical Christians, of trying to be dead to the world, but we just didn't have the Church, because we were rejecting religion and just having our own interpretation of the Bible."
Due to the influence of the monastery which published the book "Youth of the Apocalypse" many of them have become frequent visitors to Saint Herman of Alaska Monastery (men) and Saint Xenia Skete (women). Out of this association the international quarterly journal "Death To The World" – a hand – printed, black and white "zine" – was re-born, re-published and distributed under the aegis of St Herman Monastery and St Barnabas. It now has an international circulation of over one thousand. The "Death To the World" crew also makes a yearly pilgrimage to the Christian rock-punk festival "Cornerstone Festival" in Bushnell, Illinois, the week of July 4th (funded by St Barnabas). Many truth-seeking youth have been introduced to the Orthodox Church through their ministry.
For a time, some people called Saint Barnabas the "tattoo parish". In fact, another Orthodox Church nearby sent several of their counter – culture inquirers to Saint Barnabas, assuring them "you would be more comfortable there". That was okay with Fr Wayne, but he discovered this group needed even more "spiritual fathering." "Many of these kids came from broken homes and never really had a father. So I spent more time with them just "hanging out" and building relationships", he explains. This flexibility in approach to individual needs is a cornerstone of Fr Wayne and Fr Michael"s pastoral approach. "There are no "cookie cutters" here", Father Wayne emphasizes. "Each person is unique."
Father Wayne recounts a story about this influx of counter-culture kids. "I was at a clergy meeting and one of our priests from back East stopped me in the hallway and pulled me aside. He said to me somewhat incredulously, "Father, I heard you accepted an entire motorcycle gang in your church!?" After I stopped laughing, I explained it wasn"t a motorcycle gang, but later I thought, 'But what if it was? Doesn't a motorcycle gang need Christ and the Church, too?'"
Another newcomer from Turbo"s orb is Mike Tubbs. Mike"s former rap-core band, East West won the 2002 Dove Award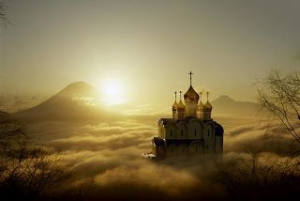 in the heavy metal category (Christian Music Award) for their album "The Light In Guinevere's Garden". Mike traveled extensively on tour and was spiritually and physically burned-out after playing 200 nights on the road. He had been attending various "Emerging Churches" sporadically and visited his old friend Turbo after his last tour ended, presumably to "catch up" on things.
"We"re talking" Mike explains, "and in the middle of the conversation Turbo drops this on me from out of nowhere, in a way only Turbo can – "The Mother of God, Mike, the Theotokos". I was like 'what are you talking about?'" Mike says, laughing. "From there, Turbo went on to explain that he and his family had found the Orthodox Church and shortly after that, I visited Saint Barnabas".
What was the experience like? "At my first Divine Liturgy I felt like I was truly standing in the presence of God. I couldn"t stop the tears", Mike explains.
The past few years have witnessed another wave of inquirers from a nearby Evangelical university. Some are drawn by the history and ethos of the Orthodox Church. Many of them were introduced to historic Christianity through the writings of patristic writers like St John Chrysostom and St Basil in their theology and history courses and wanted to see this Christianity fleshed out.
Jesse Cone, a graduate of The Torrey Honors program of BIOLA University explains his motivation to seek out a non-Evangelical church that eventually led him to St Barnabas.
"I became disillusioned at college with how Evangelicals read and teach the Bible…sort of "antiseptically" or "demythologizing" of the passages, I guess you could say", Jesse explains. "The way they like to read the Bible has to do with grammar and the language and leaves very little room for the Holy Spirit, or a spiritual meaning. It also seems to leave some incongruities with how Jesus interprets portions of the Old Testament and how the "Church Fathers" interpret portions of the Old and New Testaments." Like many others he wondered what became of the fledgling Church of the Book of Acts and was startled to find that it is the Eastern Orthodox Church. After six months of church attendance and catechism, he and his new wife Kelly were ready to enter the Orthodox Church, along with their good friends and fellow sojourners Michael and Courtney Unruh.
There will undoubtedly be other waves of seekers and inquirers in the future and they too will be welcomed at St Barnabas. This parish believes Christ is the risen Lord and this gospel is as relevant and necessary for a new generation as it has ever been.
(Reprinted from AGAIN Magazine)